Why Flossing Is a Must, Not a Maybe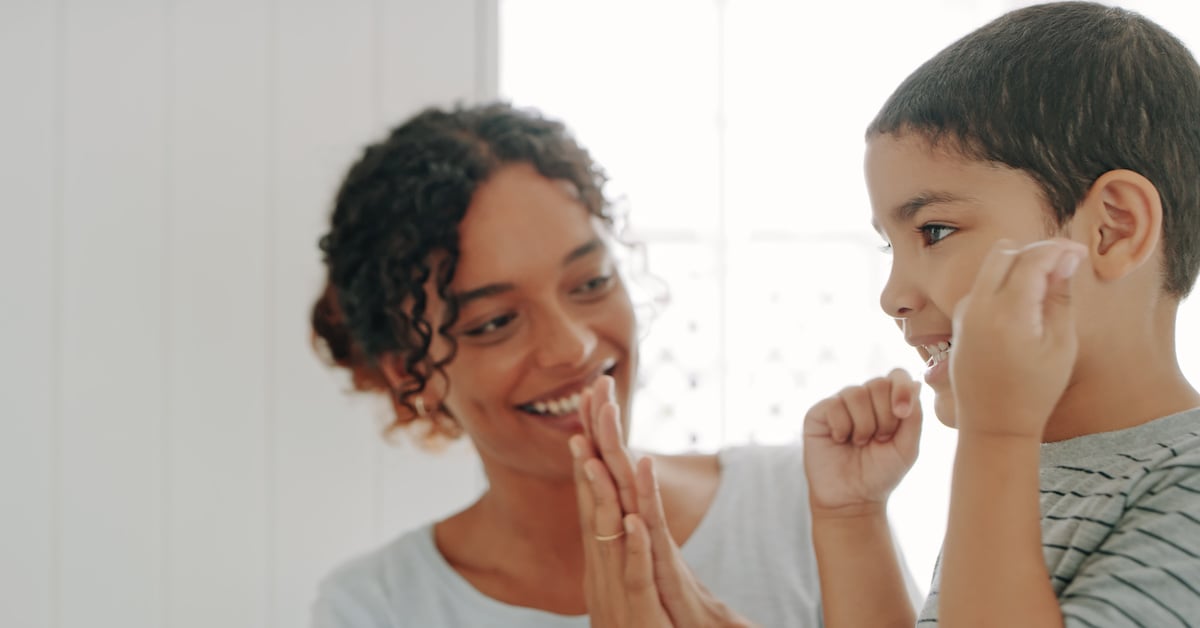 Flossing can feel like a chore for many people. Taking the time to remove food debris and plaque by flossing between each pair of teeth can often seem like a major undertaking, especially for those of us with busy schedules. However, flossing is vital to an effective dental hygiene routine. When combined with brushing and visiting the dentist regularly, flossing can change your mouth from bacteria-ridden to clean and healthy in no time at all. Don't think it's possible? We've got tons of evidence and experience with flossing and we're trying to get as many people on board as possible. So, it's our challenge to you to start flossing your teeth regularly. Get excited, because you're about to start experiencing the benefits of flossing!
Benefits of Proper Flossing
Flossing your teeth can improve your appearance as well as ensure the healthiest teeth and gums. When you eat or drink sugary or starchy things, the bacteria in your mouth attack any remaining particles of food and drink. This produces a material called plaque, which is whitish or clear and sticks to your teeth and gums. Hardened plaque creates tartar deposits on teeth. Both plaque and tartar have been implicated in a number of dental issues, including the following:
Bad breath
Increased risk of cavities and tooth decay
Gingivitis and gum disease
Discolorations of teeth
Gum disease is also known as periodontal disease. It is a serious dental condition in which the structures that support the gums and teeth are damaged over time. Periodontal disease progresses from a fairly mild form called gingivitis to advanced gum disease, which often causes the loss of natural teeth as the connective structures that support them break down.
Gum disease is a serious consequence of not taking care of your teeth properly. Other side effects include bad breath, damage to teeth from tooth decay, discoloration of some areas of your teeth, yellowing of teeth and a less attractive appearance for your smile.
Ideally, you want to achieve good dental hygiene, and to do it you need the appropriate tools and strategies. To floss your teeth properly and avoid issues with systemic diseases and gum disease, you'll need to start with about 18 inches of floss. Once you have the floss, wrap it around your fingers to ensure it's a taut string. You'll be using your index fingers and thumbs to guide the floss between the teeth and along the sides of the teeth. Use a clean section of floss for each tooth and make sure to rinse any debris from your mouth as soon as you are done flossing.
If you are an individual who is predisposed to gingivitis, gum disease or suffer from dry mouth, you'll need to be especially diligent about brushing and flossing your teeth. Dry mouth reduces the amount of saliva in the mouth, allowing more bacteria to proliferate and create problems. Make sure to speak with your dentist to develop a plan that works for you and your needs.
The Basics of Flossing for Children
It is recommended that your child's first dental appointment be made as soon as their first tooth erupts. We will work hard to make this first appointment as pleasant as possible for you and your child. While at this appointment your dentist will most likely speak to you about starting to floss your kids teeth. You'll need to help them floss at first. It's vital that you care for their baby teeth as well as you would your own teeth. Baby teeth save space for permanent teeth and decay and cavities in baby teeth can create problems for adult teeth.
Strategies for Encouraging Brushing and Flossing in Children
One of the best ways to show your children the importance of brushing and flossing their teeth is to model the behaviors you want them to practice. This means brushing after each meal and flossing your teeth each day. If you set a good example for your children, they will often carry on these activities even when you are not there to watch them or to encourage them.
For younger children, small rewards like stickers on a chart or inexpensive toys are a great way to motivate the good dental habits you want to see. These can be used as rewards for brushing and flossing each day of the week. By using positive reinforcement for brushing and flossing properly, you can instill good dental habits that will last your child a lifetime without much time or effort.
Child-sized toothbrushes and dental picks can also make cleaning and brushing much easier for your child. These tools are designed to be easier to use for smaller hands and fingers. Our dental team can make recommendations about the best toothbrushes, toothpastes and flossing devices for your children. This can make the entire process of brushing and flossing much more pleasant for you, your child and your entire family.
Understanding the Flossing Process
Flossing typically requires a few basic steps to complete successfully. First, you should get an adequate length of floss and wind it around your fingers so that it is ready for use. Apply the floss between the teeth using your fingers as a guide. Gently glide the floss up and down between pairs of adjacent teeth, using an unused and clean part of the floss for each pass between your teeth. Finally, discard the used strand of floss. You can brush before or after this process is complete. Be sure to rinse completely regardless of which option you choose. Rinsing away the plaque, bacteria and food debris is necessary for flossing to work as intended.
Electric flossers and flossing picks are also available to make it easier to floss every day. Flossing picks have handles that make it easier for some people to manage the process of cleaning their teeth at home. Electric flossers offer added convenience for faster and more effective flossing for most patients.
Finding the Right Dental Services in Suwanee
At Town Center Dental, our dental team offers services for children of all ages and adults alike. Give our team a call today at (678) 288-8938 to schedule an appointment or to touch base with us about your dental care requirements.